Structural and Functional Biochemistry
Brief Description
The Laboratory of Structural and Functional Biochemistry was founded in 2015. The Structural and Functional Biochemistry Laboratory (SFBL) serves the educational and research needs in the disciplines of Biochemistry (intermediate metabolism, synthesis and nucleic acid metabolism, structure and function of proteins), Biophysics, Structural Biochemistry, Proteomics, Structural Genomics, Regulation of metabolism, Metabolic Control of Enzymes, Food Biochemistry and Biotechnology and the implementation of all the above in Analytical Biochemistry, Enzymology, Clinical Biochemistry, Nutritional and Metabolic Biochemistry, Chemical Biology Food Technology and Quality Control, Food and Beverages, and Structure-Driven Design of Drugs and Nutraceuticals.
SFLB research activities are performed at facilities on the 2nd floor of the Biochemistry and Biotechnology building that include a state-of-the art laboratory, the Macromolecular crystallography unit (equipped with robotic crystallization unit, and an X-ray generator equipped with a MAR 345 mm Image Plate for X-ray diffraction data collection at room temperature or at 100 K), the Microscopy Unit (equipped with a variety of instruments for biological and material imaging and characterization, including a confocal microscopy, two fluorescence microscopes, three fluorescence cameras, one bright field microscope and one stereoscope), a eukaryotic culture laboratory, a laboratory of food organoleptic analysis, and a room for computational Biophysics with access to computational resources.
Research Interests
Glycogen Metabolism – Structure-guided of antihyperglycaemic drugs: Structural and functional studies of enzymes involved in glycogen metabolism (glycogen phosphorylase, phosphorylase kinase, glycogen debranching enzyme) and glucose homeostasis (phosphoenolpyruvate carboxykinase), structure-function analysis kai structure-driven design of inhibitors for potential antihyperglycaemic pharmaceutical applications. Structural studies of homolog enzymes from the plant kingdom for the discovery of novel biotechnological applications.
Steroid hormone receptors: Biochemical characterization of steroid hormone receptors mechanisms of action. Elucidation of the role and the mechanisms of action of the mitochondrial steroid receptors. Investigation and characterization of novel selective steroid receptors modulators.
Angiogenesis – Anticancer Drugs: Molecular mechanism of human angiogenin function at physiological and pathological conditions, protein-protein interactions, discovery and structure-guided discovery of novel antiangiogenic molecules with pharmaceutical potential.
RNA biology – Deadenylases: Functional studies of enzymes involved in poly(A) shortening and subsequent degradation of mRNAs that determine gene expression in lung cancer and circadian rhythms. In lung cancer, we study the role of poly(A)-specific ribonuclease, PARN, as a prognostic biomarker, in the regulation of gene expression, in microRNA biosynthesis and vice-versa its regulation by microRNAs. Regarding the role of deadenylases in circadian rhythms, we focus on AtHESPERIN, a deadenylase described and characterized from our lab, and PARN.
Bioactive compounds: Characterization of the biological actions of plant derived components and isolated molecules the biological actions. Elucidation of the biochemical mechanisms of their actions.
Extracellular Vesicles – Exosomes: Establishment of protocols to isolate and characterize extracellular vesicles (EVs) released from cells that modulate gene expression of adjacent or distal ones, while play key roles in carcinogenesis, including metastasis. Determine EV molecular cargo for a) classification of cancer subtypes, b) enrichment with specific factors and use as delivery systems in pathological conditions, and c) enrichment of foods with high nutritional value. lab leonida 6
Lectins: Molecular details of carbohydrate recognition by lectins and human galectins with the goal the production of new biomarkers and pharmaceutical agents for cancer.
Biopolymers and applications in food and beverages: Study of the structure of macromolecules, their viscoelastic behavior and their applications in the design of innovative foods and quality improvement. Influence of factors aimed at molecular modifying macromolecules and finding new functional applications e.g., starches, gluten, caseins etc.
Biochemical changes of food: Study of biochemical changes of food during their processing and preservation in order to extend the life of products and improve their overall quality characteristics. E.g., Fruits, vegetables, dairy, wine, mollusks etc.
Degradation of glycogen-glycophagy: Structural study and investigation of the role of human Stbd1 (starch binding protein 1), as a possible factor of glycophagy and characterization of its molecular interactions with glycogen and enzymes of its metabolism.
Food Biotechnology: Study of actions of enzymes, microorganisms and bioactive compounds in foods and their ingredients e.g., fermentations and more.
Organoleptic Food analysis: Study and quality control of food and their ingredients with a scientific methodology which interprets those characteristics of foods that are perceived by humans. Consumer behavior and the introduction of new food quality criteria. Combination of the above with the standardization, processing and preservation of food.
Computational design of protein structure: computational study of protein-protein and protein-ligand interaction.
Personnel
Teaching & Research Staff
Laboratory Teaching Staff
Postdocs
Dr Zoi Arsenopoulou: RNA Biology
Dr Chrisitna E. Drakou: Structural Biochemistry
Dr George Stravodimos: Structural Biochemistry
PhD Students
Serafim Alexopoulos
DionysiosAntonopoulos: EPAnEKfellow/li>
Achileas Georgantopoulos: OMIC-Engine Fellow
Fotini Kalousi: HFRI Fellow
Symeon Koulas: DEKA Fellow
Athanasios Kyritsis: IKY Fellow
Raphailia Beta: EDBM Fellow
Olga Papaioannou: IKY Fellow
Theodora Solovou: IKY Fellow
Anastasia Tsagkarakou: EDBM Fellow
Ioannis Tsialtas: HFRI Fellow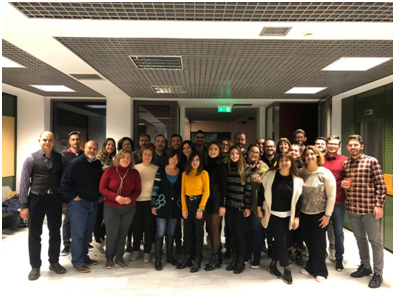 Research projects-Funding
An indicative list of research projects of the laboratory funded during the period 2015-2020
Research Infrastructure project, The research infrastructure of Synthetic Biology in Agro-Nutrition (OMIC-Engine) Funding: Ministry of Development, Finance and Tourism. Duration 2017-2021, Website: https://www.omicengine.com/ Role: Member of the Coordinating Committee Demetres D. Leonidas
Research Infrastructure project, The National Research Infrastructures on integrated biology, drug screening efforts and drug target functional characterization – INSPIRED-Thessaly, Funding: Ministry of Development, Finance and Tourism. Duration 2017-2021, Website: https://www.inspired-ris.gr/Coordinator: D.D. Leonidas, Member of the Coordinating Committee: V.T. Skamnaki
HFRI Support to Postdoc Fellows, Odorant Degrading Enzymes as molecular targets for controlling the olive fruit fly's behavior (ODEsOFF. Duration 2021-2023, Coordinator: C.E. Drakou, Participating scientists: D.D. Leonidas & V.T. Skamnaki
ΕDΒΜ-103: Support of Researchers with emphasis on Young Researchers- Cycle Β': Structure guided design of glycogenolysis modulators with the goal of the development of novel therapeutic agents Funding: Ministry of Development, Finance and Tourism. Duration 2017-2021. Duration 2020-2021, Coordinator: D.D. Leonidas, Vice-coordinator: A.-M. Psarra.
ΕDΒΜ-103: Support of Researchers with emphasis on Young Researchers- Cycle Β΄: Studies on the role of poly(A)-specific ribonuclease in circadian gene expression. Funding: Ministry of Development and Investments. Duration 2020-2021, Coordinator: N.A.A. Balatsos
Hellenic Thoracic Society: Research Fellowship «MicroRNAsthatmodulatedeadenylaseexpressioninlungcancer».Coordinator: N.A.A. Balatsos
Hellenic Thoracic Society: Research Fellowship «Studiesonthebiologicalsignificanceofdeadenylasesinlungcancer». Coordinator: N.A.A. Balatsos
"MilkSafe – Fingerprinting Human Breast Milk & Exosomics", Operational Programme Competitiveness, Entrepreneurship and Innovation National-Range Action: Research – Create – Innovate (2nd round), EPAnEK 2014-2020. Participating scientist: N.A.A. Balatsos
Publications
Indicative recent publications of the group for the period 2015-2020 are presented
Alexandris N, Lagoumintzis G, Chasapis CT, Leonidas DD, Papadopoulos GE, Tzartos SJ, Tsatsakis A, Eliopoulos E, Poulas K, Farsalinos K (2021) Nicotinic cholinergic system and COVID-19: In silico evaluation of nicotinic acetylcholine receptor agonists as potential therapeutic interventions. Toxicol Rep. 8:73-83
Kyriakis E, Karra AG, Papaioannou O, Solovou T, Skamnaki VT, Liggri PGV, Zographos SE, Szennyes E, Bokor É, Kun S, Psarra AG, Somsák L, Leonidas DD (2020) The architecture of hydrogen and sulfur σ-hole interactions explain differences in the inhibitory potency of C-β-d-glucopyranosyl thiazoles, imidazoles and an N-β-D glucopyranosyl tetrazole for human liver glycogen phosphorylase and offer new insights to structure-based design. Bioorg Med Chem.28(1):115196.
Beta RAA, Kyritsis A, Douka V, Papanastasi E, Rizouli M, Leonidas DD, Vlachakis D, Balatsos NAA. Biochemical and in silico identification of the active site and the catalytic mechanism of the circadian deadenylase HESPERIN (2020). FEBS Open Bio. doi: 10.1002/2211-5463.13011
Drakou C, Gardeli C, Tsialtas I, Alexopoulos S, Mallouchos A, Koulas S, Tsagkarakou A, Asimakopoulos D, Leonidas D, Psarra AG, Skamnaki VT (2020) Affinity Crystallography Reveals Binding of Pomegranate Juice Anthocyanins at the Inhibitor Site of Glycogen Phosphorylase: The Contribution of a Sugar Moiety to Potency and Its Implications to the Binding Mode J. Agric. Food Chem. 68 (37), 10191-10199.
Chetter BA, Kyriakis E, Barr D, Karra AG, Katsidou E, Koulas SM, Skamnaki VT, Snape TJ, Psarra AG, Leonidas DD, Hayes J.M. (2020) Synthetic flavonoid derivatives targeting the glycogen phosphorylase inhibitor site: QM/MM-PBSA motivated synthesis of substituted 5,7-dihydroxyflavones, crystallography, in vitro kinetics and ex-vivo cellular experiments reveal novel potent inhibitors. Bioorg Chem. 102:104003.
Karra AG, Tziortziou M, Kylindri P, Georgatza D, Gorgogietas VA, Makiou A, Krokida A, Tsialtas I, Kalousi FD, Papadopoulos GE, Papadopoulou KΚ, Psarra AG. (2020) Boswellic acids and their derivatives as potent regulators of glucocorticoid receptor actions. Arch Biochem Biophys. 695:108656.
Tsialtas I, Gorgogietas VA, Michalopoulou M, Komninou A, Liakou E, Georgantopoulos A, Kalousi FD, Karra AG, Protopapa E, Psarra AG. (2020) Neurotoxic effects of aluminum are associated with its interference with estrogen receptors signaling. Neurotoxicology. 77:114-126.
Giannopoulou P.C., Missiri D.A., Kournoutou G.G., Sazakli E., Papadopoulos G.E., Papaioannou D., Dinos G.P., Athanassopoulos C.M., Kalpaxis D.L. (2019) New chloramphenicol derivatives through the glasses of anticancer and antimicrobial activity. Antibiotics 8(1),9
Karra AG, Konstantinou M, Tzortziou M, Tsialtas I, Kalousi FD, Garagounis C, Hayes JM, Psarra AG.(2019) Potential Dissociative Glucocorticoid Receptor Activity for Protopanaxadiol and Protopanaxatriol. Int J Mol Sci. 20(1):94.
Kun S, Begum J, Kyriakis E, Stamati ECV, Barkas TA, Szennyes E, Bokor É, Szabó KE, Stravodimos GA, Sipos Á, Docsa T, Gergely P, Moffatt C, Patraskaki MS, Kokolaki MC, Gkerdi A, Skamnaki VT, Leonidas DD, Somsák L, Hayes JM. (2018) A multidisciplinary study of 3-(beta-d-glucopyranosyl)-5-substituted-1,2,4-triazole derivatives as glycogen phosphorylase inhibitors: Computation, synthesis, crystallography, and kinetics reveal new potent inhibitors. Eur J Med Chem. 147:266-278.
Beta RAA, Balatsos NAA. (2018) Tales around the clock: Poly(A) tails in circadian gene expression.Wiley Interdiscip Rev RNA. 2018: e1484. doi: 10.1002/wrna.1484.
Chatzileontiadou DSM, Tsika AC, Diamantopoulou Z, Delbé J, Badet J, Courty J, Skamnaki VT, Parmenopoulou V, Komiotis D, Hayes JM, Spyroulias GA, Leonidas DD. (2018) Evidence for Novel Action at the Cell-Binding Site of Human Angiogenin Revealed by Heteronuclear NMR Spectroscopy, in silico and in vivo Studies. ChemMedChem. 13(3):259-269.
Gorgogietas VA, Tsialtas I, Sotiriou N, Laschou VC, Karra AG, Leonidas DD, Chrousos GP, Protopapa E, Psarra AG. (2018) Potential interference of aluminum chlorohydrate with estrogen receptor signaling in breast cancer cells. J Mol Biochem. 7(1):1-13.
Chatzileontiadou DSM, Samiotaki M, Alexopoulou AN, Cotsiki M, Panayotou G, Stamatiadi M, Balatsos NAA, Leonidas DD, Kontou M. (2017) Proteomic Analysis of Human Angiogenin Interactions Reveals Cytoplasmic PCNA as a Putative Binding Partner. J Proteome Res. 16(10):3606-3622
Antonopoulos D, Balatsos NAA, Gourgoulianis KI. (2017) Cancer's smart bombs: tumor-derived exosomes target lung epithelial cells triggering pre-metastatic niche formation. J Thorac Dis. 9(4):969-972.
Floros S., Liakopoulou-Kyriakides M., Karatasos K., Papadopoulos G.E. (2017) Frequency Dependent Non- Thermal Effects of Oscillating Electric Fields in the Microwave. Region on the Properties of a Solvated Lysozyme System: A Molecular Dynamics Study.PLOS ONE | DOI:10.1371/journal.pone.0169505
Delis C, Krokida A, Tomatsidou A, Tsikou D, Beta RA, Tsioumpekou M, Moustaka J, Stravodimos G, Leonidas DD, Balatsos NA, Papadopoulou KK (2016). AtHESPERIN: a novel regulator of circadian rhythms with poly(A)-degrading activity in plants. RNA Biol. 13(1):68-82
Georgatza D, Gorgogietas VA, Kylindri P, Charalambous MC, Papadopoulou KK, Hayes JM, Psarra AG. The triterpene echinocystic acid and its 3-O-glucoside derivative are revealed as potent and selective glucocorticoid receptor agonists. (2016) Int J Biochem Cell Biol. 79:277-287.
Begum J, Skamnaki VT, Moffatt C, Bischler N, Sarrou J, Skaltsounis AL, Leonidas DD, Oikonomakos NG, Hayes JM. (2015). An evaluation of indirubin analogues as phosphorylase kinase inhibitors. J Mol Graph Model.61:231-42.
Maragozidis P., Papanastasi E., Scutelnic D., Totomi A., Kokkori I., Zarogiannis S.G., Kerenidi T., Gourgoulianis K.I., Balatsos N.A.A. (2015). Poly(A)-specific ribonuclease and Nocturnin in squamous cell lung cancer: prognostic value and impact on gene expression". Mol Cancer. 14: 187.
Floros S., Liakopoulou Kyriakides M., Karatasos K., Papadopoulos G.E. (2015) Detailed study of the dielectric function of a lysozyme solution studied with molecular dynamics simulations. Eur Biophys J 44(8), 599-611.
PhD thesis
Alexopoulos Serafim: Biochemical studies on regulation of carbohydrate metabolism. Supervisor: V.T. Skamnaki (in progress)
Georgantopoulos Achilleas: Steroid hormone receptors: characterization of the biochemical regulation mechanisms of action, Supervisor: A.-M. Psarra (in progress).
Tsagkarakou Anastasia: Structural basis of carbohydrate recognition by human galectins. Supervisor: D.D. Leonidas (in progress).
Koulas Symeon: Structural and Functional studies of a-glucan phosphorylases. Supervisor: D.D. Leonidas (in progress).
Kalousi Fotini: Characterization of biological actions of plant products. Supervisor: A.-M. Psarra (in progress).
Karageorgou Aikaterini: Study of new antibodies as biomarkers of autoimmune neurological diseases. Supervisor: D.D. Leonidas (in progress).
Tsialtas Ioannis: Biochemical characterization of estrogen receptor regulation. Supervisor: A.-M. Psarra (in progress).
Antonopoulos Dionysios: Biochemical characterization of alternative transcripts of poly(A) specific ribonuclease and investigation of its role in mesothelioma. Supervisor: N. Balatsos (inprogress).
Papaioannou Olga: The function of human angiogenin in angiogenesis. Supervisor: D.D. Leonidas (in progress).
Beta Raphaelia: mRNA degradation enzymes and their role in circadian rhythm disorders in humans. Supervisor: N. Balatsos (inprogress).
Solovou Theodora: Biochemical studies on the glycogen synthase kinase homologous kinase of Lotus japonicus, Supervisor: D.D. Leonidas (in progress).
Kyritsis Athanasios: Differential Expression of cancer markers in lung diseases. Supervisor: N. Balatsos (inprogress).
Kyriakis Efthymios: "Biochemical studies on glycogen metabolism. Supervisor: D.D. Leonidas (2020)
Karra Aikaterini: "Biochemical characretization of Glucocorticoid Receptor mechanisms of action. Plant steroids and their semisynthetic derivativew as putative selective glucocorticoid receptor agonists" Supervisor: Α.-Μ Psarra (2019)
Stravodimos Georgios: "Biochemical studies of enzumes in glycogen metabolism", Supervisor: D.D. Leonidas (2018)
Gorgogietas Vyronas: "Role of steroid hormone receptors in the regulation of cellular pathophysiology, Supervisor: Α.-Μ Psarra (2018)
Chatzileontiadou Dimitra: "Biochemical studies on human angiogenin". Supervisor: D.D. Leonidas (2016)
Κantsadi Anastasia: "Glycogen phosphorylase as a molecular target for the design of new antihyperglycaemic drugs". Supervisor: D. Leonidas (2015)
Karoulia Zoi: A functional and structural study of the von Willebrand factor and its role in hemostasis individual reactions. Supervisor: D. Leonidas (2011)
Services
Evaluation of bioactive molecules for anti hyperglycaemic effects.
Evaluation of potent selective steroid receptors' modulators.
Determination of the 3D structure of protein – ligand complexes using X-ray crystallography.
Production of functional hybrid biomolecules with structural parts of natural or synthetic origin.
Novel food design studies-Discovery of novel techniques for production and preservation of safe foods.
Food quality assessment and organoleptic tests.
Laboratory of Structural and Functional Biochemistry
Department of Biochemistry and Biotechnology (2nd Floor)
University of Thessaly
Viopolis, 41500 – Larissa
Contact
2410-565297
biochemlab-at-bio.uth.gr